Fraud can happen anywhere
Fraud can happen anywhere in the eCommerce world. It doesn't matter if you're running a small online business or are an owner of a retail chain. Technology developing and eCommerce market growth are incentives for fraudsters to find new ways of hacking into the market. It's hard to estimate the true scale of fraud in business, but it's a serious issue. Read this post to find out how you can prevent fraud.
You Need Be Ready For Fraud
The LexisNexis True Cost of Fraud report shows that the average value and volume of fraudulent transactions has risen since 2015. The truth is, it's unstoppable so merchants should keep in mind that they might face fraudulent activities.
Fraud isn't only related to monetary loss, but can also harm your reputation and brand image. Online business owners need to prepare for fraudulent activities so they can detect and prevent them. Is it possible?
What is fraud?
Fraudulent practices are growing with the increased use of online credit cards and is mostly done against consumers. Fraud comes in many forms such as unauthorized transactions, fake requests for a refund, using the service without paying the due amount, etc.
Fraud is made for personal gain and comes with unauthorized and illegal benefits. It's almost impossible to prevent fraud when technology is developing so fast. Anyone on the internet can be anonymous and there is no need to be physically present when you authorize payments. There are credentials used to identify users but it doesn't take a technical expert to realize an identity can be stolen. It's really about having adequate protection. If it's done correctly, your payments will be secure and if not, the fraudsters can do harm.
What are fraud detection methods?
While eCommerce business owners need to manage fraud, they also have to face customer trust and loyalty loss. It's crucial to have a fraud management plan or to choose a payment provider with highly effective anti-fraud tools.
Anti-fraud services such as data analysis have been used for years to detect fraud. It's time-consuming and needs comprehensive knowledge in finance, economy, law, and more. Fraud activities may be similar, but are rarely identical. We now also have artificial intelligence so data processing can be more advanced.
There are many fraud detecting methods such as data mining, time-series analysis, calculation of statistical parameters and matching algorithms to detect anomalies.
Fraud detection solution comes in a few stages. The first stage is to prevent fraudulent activities, which is connected to risk management. If a potential fraudulent behaviour is identified, it's time to start the back-office process. The last part of fraud detection is analysing the data to predict new scenarios and fraud methods.
Benefits of Fraud Management
As you can see, the whole process requires highly effective data mining techniques. If you care about your business credibility and customers' security, fraud management is a must. It comes with several benefits. Some of them are:
When you offer customers an anti-fraud system, your brand awareness increases and there's a greater value attributed to the services you're providing.
The number of non-identified transactions decrease, which result in lower costs related to credit recovery.
All the benefits listed come with increased revenue and increased customer retention.
In all, there are many ways merchants can lose customers while trying to catch cyber-thieves. According to a LexisNexis study, top challenges when selling merchandise through online or mobile channels are verification of customer identity, delay in payment confirmation, and confirmation of package delivery.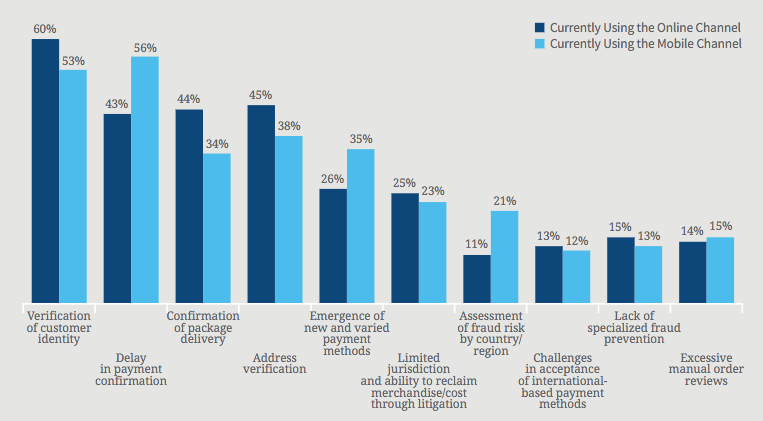 How to Prevent Fraud?
Cyber-criminals can make a lot of money in the online market so it's almost impossible to prevent their attempts of stealing money from credit cards. However, there are some warning signs you can focus on to minimize the risk of being hacked. Here's a list of what you can do to prevent and lower the risk of fraud.
1 Monitor
Check your business orders closely. The best way of doing this is to monitor every order before shipping them and it takes time. Pay attention to the shipping address. If it's different from the billing address or looks weird, you can cancel shipping the order. You can also request the issuing bank to get in touch with the customer. Online thieves often give bad phone numbers that don't match with credit cards they use to make an order.
Another indicator of fraud is an IP address from outside the country. Of course, this doesn't always mean an order is connected with fraudulent activities. Be certain before you accuse a customer. If you have any doubts, contact the customer to confirm that they actually ordered the product.
Another thing to watch closely is repeated attempts to order an item or service on the same card.
It's normal for you to be worried because determining if a customer is fraudulent may cost you a legitimate customer who will never return to buy something from you.
2 Require a signature
You should always ask for a signature upon delivery. Just to make sure the order was delivered and in good hands.
3 Be careful with international orders
When selling globally, you need to check orders twice. This is especially true when shipping to Asia or Africa as they are countries with higher instances of fraud.
4 Focus on time of ordering
eCommerce comes with a 24/7 experience and therefore it's natural that people may buy online at any time. You should especially monitor late night and early morning orders. This is because fraudsters often make purchases during this time period.
The same can be said with express shipping. It's one of the common shipping methods chosen by fraudsters because they don't have to worry about the shipping cost. They also often make costly orders in high quantities.
5 Check e-mail addresses
Strange or "cute" e-mail addresses should set off alarm bells. Again, it doesn't mean that every ridiculous email address is going to be suspicious. Usually, a person's e-mail address will match with their name. But when you see something like Iamfraudster@somedomain.com, think twice before shipping the product.
You also need to be careful of the anonymous e-mail services. Thieves are more likely to use this kind of e-mail providers because they don't give personal information to the police or merchants.
6 Use Airsharp Antifraud System
These fraudulent transactions are not easy to detect, so highly effective anti-fraud tools are necessary. There are many companies that specialize in fraud management. If you are a merchant that processes payments on your website, you can provide highly effective anti-fraud protection by choosing the proper anti fraud system.