What Is VPN?
VPN is an acronym for Virtual Private Network. The purpose of a VPN is to provide you with security and privacy as you communicate over the internet.
Internet Security Problems
Here's the problem with the internet: It's inherently insecure. When the internet was first designed, the priority was to be able to send packets (chunks of data) as reliably as possible. Networking across the country and the world was relatively new, and nodes often went down. Most of the internet's core protocols (methods of communicating) were designed to route around failure, rather than secure data.
This leaves any internet user vulnerable to criminals who might steal your banking or credit card information, governments who might want to eavesdrop on their citizens, and other internet users who might want to spy on you for a whole range of nefarious reasons.
How Does VPN?
A VPN creates a private tunnel over the open internet. The idea is that everything you send is encapsulated in this private communications channel and encrypted so - even if your packets are intercepted -- they can't be deciphered. VPNs are very powerful and important tools to protect yourself and your data.
Let's start with the basic idea of internet communication. Suppose you're at your desk and you want to access a website like ZDNet. To do this, your computer initiates a request by sending some packets. If you're in an office, those packets often travel through switches and routers on your LAN before they are transferred to the public internet through a router.
Once on the public internet, those packets travel through a bunch of computers. A separate request is made to a series of name servers to translate the DNS name ZDNet.com to an IP address. That information is sent back to your browser, which then sends the request, again, through a bunch of computers on the public internet. Eventually, it reaches the ZDNet infrastructure, which also routes those packets, then grabs a web page (which is a bunch of separate elements), and sends all that back to you.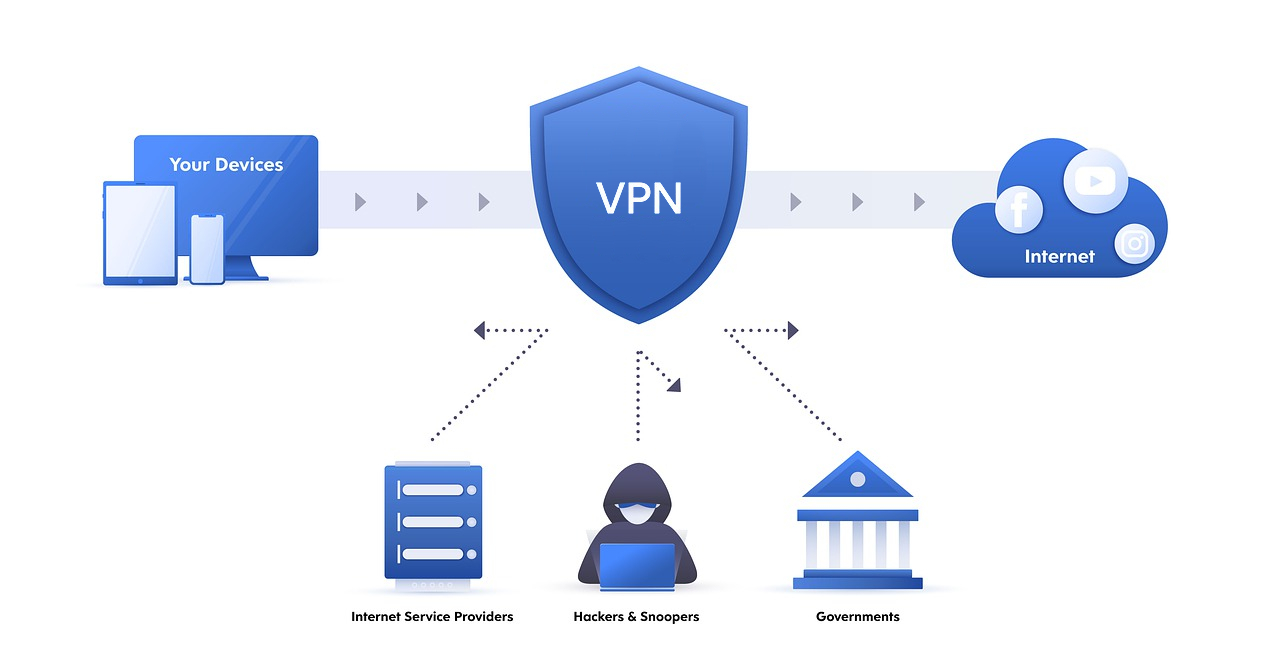 The VPN tunnel between the VPN Client and VPN server passes through the ISP, but since all the data is encrypted, the ISP cannot see the user's activity. The VPN server's communications with the Internet are unencrypted, but the web servers will only log the IP address of the VPN server, which gives them no information about the user.
What Are The Types Of VPNs?
Most of us are familiar with the concept of a LAN, a local area network. That's the private network inside of one physical location -- be it a home, a corporate building, or a campus. But many businesses don't run out of one location. They have branch offices, departments, and divisions that are geographically dispersed.
In many cases, each of these offices also has LANs. But how do the LANs connect? For some very specialized solutions, companies lease private lines to connect the offices. That can be very expensive. Instead, most companies opt to geographically connect separated private LANs over the public internet. To protect their data, they set up VPNs between offices, encrypting the data as it traverses the public internet.
This is corporate or enterprise VPN, and it's characterized by the same organization controlling both endpoints of the VPN. If your company controls the originating point (say a sales office) and the endpoint (like a VPN server at your corporate HQ), you can be quite well assured (unless there's a bug) that your data is securely transmitted.
The second type of VPN is a consumer VPN. This is for those of you who compute in hotels or at coffee shops and connect to web applications like social networks, email, banks, or shopping sites. Consumer VPN services help ensure that those communications are protected.
Consumer VPN Service
The VPN service gives you an app that you run on your local device, which encrypts your data, and it travels in its encrypted form through a tunnel to the VPN service provider's infrastructure. At that point, the data is decrypted and sent on its way.
The second thing that happens is that the web application you're talking to does not get to see your IP address. Instead, it sees an IP address owned by the VPN service.
Dedicated VPN Server
A Consumers VPN service doesn't guarantee an increased level of security; users can only feel secure with a VPN if they trust the VPN provider. A dishonest VPN provider could sell their users' information or leave them open to attacks.
So we need use a dedicated VPN server when connecting offices. Any time you need to link over the public internet, you should to take care method of enterprise protection. In this case, it will be better the VPN software will run in a dedicated VPN server.